I wasn't sure if I should post this in the main series page or spinoff page since this has to do with both Umbrella Corps and RE7. Anyway, everything I'll be posting here will be from memory so if I miss something I'll be adding it later on. The reason I'm making this is that I just beat The Experiment (with S rank, no less) and I think that for what it was worth, the story is pretty interesting.
Before I start, some dates. It was told via official Capcom sources that the multiplayer mode mostly takes place in 2015 (couldn't confirm this in the game since no one is playing the online mode) but the experiment takes place from March 12, 2012 to January 2, 2013, meaning it happens partly around the same time as RE6. And Clan Master, if you count that in the canon. Interestingly the company in Clan Master (Vasilisk) was conducting similar experiments, only in virtual reality.
First of all, we got a new unnamed character in the series, under the codename 3A-7. He is a mercenary working for an unnamed organization (not confirmed to be THE Organization) with an emblem on his shoulder that says "Umbrella Corps". His fighting skills were compared to the old U.S.S. by one of the experiment coordinators, who later started wondering if 3A-7 could actually be the original Grim Reaper, HUNK. No actual connection to the U.S.S. was established though and by the end he was referred to as "The New Grim Reaper" and he had supposedly become feared by everyone else in the organization. He got this moniker by surviving trials made to actually dispose of him.
Here's the guy.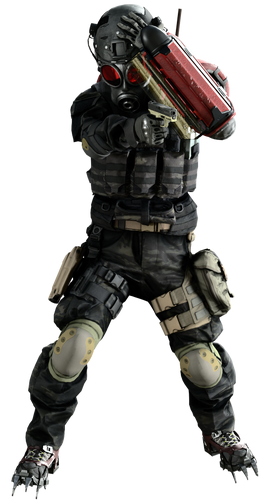 Speaking of HUNK, he was only really mentioned once (when 3A-7 was not being compared to him) when the coordinator at the time said HUNK is an avid supporter of CQBZ, which is apparently some new fighting style being developed by the main organization here. This is the first mention of HUNK in the canon story since 1998 and apparently he is still up to his old mercenary ways. He also seems to be somehow involved with these people.
Oh, and as for HUNK and 3A-7 being the same person I think that's doubtful since HUNK has been voiced by Keith Silverstein in all of his speaking roles and 3A-7 is voiced by D.C. Douglas. Of course Capcom swaps voice talents every now and then but I thought that's worth mentioning.
The higher ups of the organization in order of appearance: Abraham Jackson (most likely dead after stepping over his boundaries), the Commander, Honker (a person with enough influence to call the shots on The Experiment), Beatrice Bertrand (also most likely dead after failing to dispose of 3A-7) and an unnamed researcher who took over after Beatrice when she... went missing. The commander, however, is of most interest as everyone seemed kind of afraid of him and when it came to 3A-7 being sent to Pueblo it was said that "That man seems very interested in this village. The way he talks about it... it's almost like he was there when everything went down." This has of course sparked insane "WESKER IS ALIVE AKDMSDKLFMDLSKM" theories but he is still rather singed after the last incident so I say screw those theories. Who this person is is anyone's guess. If I were to throw in my own crazy theory, there is still this image that has irked me since RE4.
Spoiler:
Also Abraham and Beatrice most likely being dead kind of brings the whole "the multiplayer mode takes place in 2015" into questioning, since both of these characters can be heard via radio in it. Either the date told to us was wrong or they weren't actually killed.
Now let's go to the locations. As we know, the RE4 village wasn't actually on the island that blew up and Kijuju is still very much under a biohazard so they are in quarantine but these people have still found their way into them to collect samples for their companies or for their own merit. The Antarctic facility, as terribly broken down as it is in Umbrella Corps, still also seems to be at least somewhat standing. Then there is the whole Raccoon City and the RPD areas... They are recreations. Rather small portions of those locations, too. This company built at least the foyer of RPD and some streets around it and some tunnels below it in some secure location (so secret the main character and the coordinator had to be put to sleep before making the trip). They made a terrible mistake of making Kendo's Gun Shop be right next to RPD, which it never was. Still, their existence in the game now make more sense. It can be argued if the strain they are using to make this cannon fodder zombies is the C-virus, since it seemingly makes some zombies turn into REALLY vicious bloodshots, or at least into some mutant zombies very closely resembling them. Comparison below, with the Umbrella Corps mutant (only called "mutated zombies" on the official site) first and a Bloodshot second.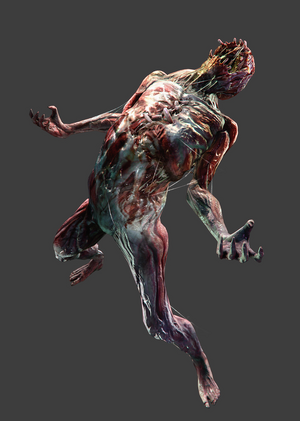 Oh yeah, the RE7 connections. Maybe the logo on the helicopter in the photo isn't even Umbrella's logo to begin with, but the logo of this new Umbrella Corps. group, if that even is the name of the actual company or whatever. Anyway, they seem to be very keen on creating these testing grounds and situations, which could tie in very well with the RE7 setting.
Here's the photo.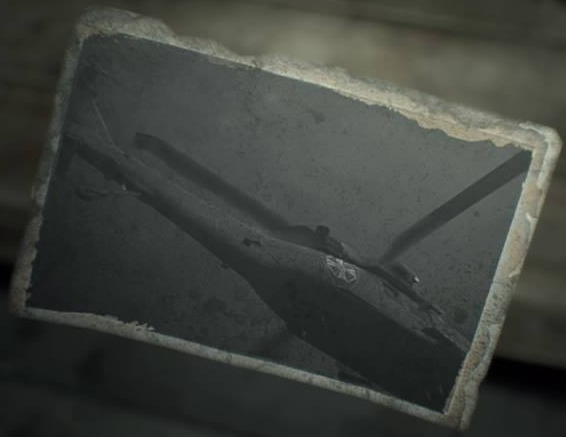 Here's the UC shoulder patch.
Oh, and 3A-7 (or some other mercenary from the many mercs groups from Umbrella Corps) is definitely appearing in RE7, as seen in this image I just found from the photogrammetry event.
As a side note, there is a moment in the online game mode where if you do really good D.C. Douglas says "That was... Satisfactory." in his Albert Wesker voice, which is rather strange. He says this in response to Abraham Jackson asking someone "Well sir, what did you think?". Here's a link to the voice and a guy instantly declaring it Wesker:
https://www.youtube.com/watch?v=Aq-_3b-Qb_A&feature=youtu.be&t=5106
Aaaand we got like a ton more nonconsequential companies, mercenary groups and whatnot. It is not known if one of these companies is the one conducting The Experiment. Here's a list:
Medvedev (Russian company)
Tenenti Inc.
Suntech Samurai Co. (most likely Japanese)
Suntech Ninja Co. (subsidiary of Suntech Samurai Co.)
Saurian Corporation
Aeolus Edge East (American weapons manufacturer based in New York)
Aeolus Edge West (subsidiary of Aeolus Edge East, based in California)
Akembe Chemical
Rashid Sahir Industries
Shéng-Yā Pharmaceutical (Chinese former competitor of Umbrella, were involved in the events of Heavenly Island)
They all have logos too, so check them in the spoilers.
Spoiler:
Oh yeah and there were zombie dogs in the Kijuju stage that were not dobermans or wolves. They were regular, zombified african dogs, as told by the game.